WHATS ON THIS YEAR?
Wiloughby Arms Saturday May 24th
Willoughby Road Kingston, KT2 6LN
Tel 020 8546 4236 From 7pm £5 donation

Sean Taylor - solo artist
Dick Philpot - solo artist
Bruce Harman - solo artist
Smiling Knife - band
Gold Teeth - headlining band
..............................................................................................................................

Monday 26 May, 11am to 7pm
Kingston Green Fair, 21st Birthday Extravaganza

PROGRAMME OF EVENTS
View map of 2008 Green Fair here


THE BANDSTAND
A magical experience at the Canbury Gardens traditional bandstand is to be had by all . Relax on chairs in true Sgt Peppers style around this fabulous space. Renewably powered by Alan Turnbull
12.20pm John Hills Blues Explorers.
1.35pm. World of Rhythm. Top UK rhythm facilitators Simon McCarty and Chris Tero invite everyone to a drum and rhythm experience.
3.00pm. The Fulham Brass Band The Band has a long history of playing music throughout London and today is the last remaining such group based within the Central London area.
6.30pm. Tony Heiburg Quartet. "A swinging rhythm section", "lightning sax and guitar", "impressive technique" and, most importantly, "melodic flair". The Times.
Situated in the tranquil Healing area. This beautiful participatory venue encourages the best in people and body experiences.
Renewably powered by Magrec Engineering

12.00 Noon. One Light Healing Touch Meditation with Pema P Gericke.
1pm Mean Feet believe that anybody and everybody can dance Their unique, inclusive style brings together people of all ages, shapes and lifestyles..
2pm Biodanza session with Ruth Strupinski. A system of natural movements, dance, music and expression that frees the body and opens the heart to allow us to return to wholeness, and reconnect with our
humanity.

3pm Sultanhu And The Whirling Dervishes.
Experience this elegant and beautiful Sufi Tradition.
4.10pm Kundalini Yoga with Sarah Cross In yogic anatomy the sushumna is the central channel and conduit for the kundalini energy that runs along our spine and up to the crown of our head. Unlock the secret of the chakras.
5pm Introduction to Middle Eastern Percussion, music and
Belly dance.
Mazaj Duo (Chas Whitaker, Maren Lueg) and Oriental
Dance presented by Carmen Jones
You can learn how to play percussion and/ or dance to
live music.
7pm MAHA RA A fantastic sacred dance finally with some high energy devotional dance music.
Also Look out for Sid Whitworth and his Ecstatic Dance Session


THE MANDALA MUSIC MARQUEE
Named in respect of Music Producer Dave Goodman will delight in the splendid magnificence of the finest contempory folk music around .
Pedal powered by Chris ,Melissa and The Pyramids of Snafu.
12.30pm Tony Voller resident green fair starteroffer !
1.25pm Sadie Jemmet Brand new London folk sensation.
2.15pm Andrew Morris Australian Born Singer Songwriter with 15 years experience of playing the clubs and stages of London.
3.15pm Telling the Bees from Oxford this is a band that conjures hauntingly beautiful music
4.15pm Newrising Exciting Guildford Acoustic Alternative.
5.15pm Jono McCleery Kingston's brilliant songster
6.30pm The Green Rock River Band London country folk band of the highest standard to end the show
If you like your music this is where to come . Driving sounds with a human edge,
DIY power by Colin York and the Coltek engineers.

1pm Day Shift.
Day Shift are a curious and innovative blend of psychedelia, space rock & excellent original songs


2..15pm Mr Fogg
Uk Pop Electronica with a psychedelic edge
3.30pm East of Ealing
Crewed by the electric fiddle driven Roots Rockers that are EAST OF EALING. London based, but including global themes, at times political, dark, humorous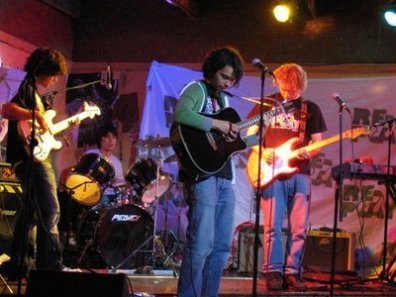 4.40pm JCs Flatline Junkies (image left) South London based music obsessives JC's Flatline Junkies love to mix it up. Their sound? Well its been described as Floydesque, Doors-like, rock and roll. But they can't resist a snatch of blues, jazz or funk when the mood takes them
6pm Bird Bones
This brilliant new band is a mixed bag of pathos, frustration, love, laughs, silence and howl, feeling and reason. Steve James plays piano.
7.10pm Step 13 Once again the Green Fair are proud to host Step 13 A heady mix of dance breaks, powerful rhythms and rock 'n' roll attitude for the mind and for the feet.


WORLD MUSIC STAGE
Featuring the best in Sun Powered entertainment, this prime cultural stage has global significance.
Solar powered by Blue Solar and Zia Solar
Engineering by Sam Skey and Team.
Stage Management Sandy Lawson
DJ and Sound mash ups by Matt Catt
12.35pm Paprica Balkanicus
London Based Balkan virtuosos. Full of Eastern European promise, this band cannot be matched
2pm Rodney Branigan (image left) Texas Musician Rodney Branigan is one of the most amazing artists you will ever see. Not simply because he's unique, but rather because he's impossibly talented.
3.30pm Kangaroo Moon
Green Fair favourites Mark Robson brings this Anglo Australian brings this outfit back to life on the sunshine stage.
5pm Lisa Knapp
A contemporary folk artist who successfully mixes traditional songs and her own traditionally inspired material. Her fans range from purist folk-lovers to leftfield eclectic programmers and her album Wild and Undaunted won Mojo's Folk Album of the Year 2007 and has been nominated for BBC Radio 2 Folk Awards.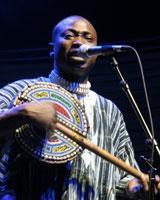 6.40pm Atongo Zimba (image left) Born in Ghana's Bolgatanga region in 1967 gained first fame as he was for a year and a half the opening act at the Shrine shows of Fela Kuti in Lagos, Nigeria. He has played and toured with great African musicians as Hugh Masekela, Manu Dibango, Osibisa, Francis Fuster, Jimmy Beckley's Afro-Jazz Combo and Angelique Kidjo, to mention just a few. Nominated as African CD of the year 2007!



SPEAKERS TENT

12 - 1 Stop the War coalition with Speaker

1 -2 Hannah Smith Kingston and S/W london Green Champion

2 - 3 Penny Kemp Headcorn sustainability

3 - 4 Jonothan Bower

4 - 5 Yassamine Mather hands off the people of Iran

5 - 6 Shane Collins/Green Party drugs working group, drugs, crime and recession



Mean Feet Dance
Disperate Dan Presents
Misadventures of A Victorian Dragon Machine
South London Street Arts
Carnival Mask from Kingston University Drama
Professor Bicudo will lead the Capoeira group
Associacao de Capoeira Engenho de Rainha

..............................................................................................................................
Kingston Green Radio 87.7 FM

Listen To Highlights on KGR 27th May to 5th June.

..............................................................................................................................

Artists Profiles

Lisa Knapp




A mesmerising singer and fiddle player, Lisa's debut album was a stunning and confident statement from a contemporary folk artist who successfully mixes traditional songs and her own traditionally inspired material. Her fans range from purist folk-lovers to leftfield eclectic programmers and her album Wild and Undaunted won Mojo's Folk Album of the Year 2007 and has been nominated for BBC Radio 2 Folk Awards.

Lisa Knapp merges a radiant style of traditional folk and self-penned song with fiddle, strings, banjo and sonic delights from the technological age. Bath International Music Festival


'A major discovery' Mojo

www.myspace.com/lisaknappmusic
..............................................................................................................................
..............................................................................................................................
REPLAY Music actively supports PAINT THE TOWN GREEN